Accelerated Innovation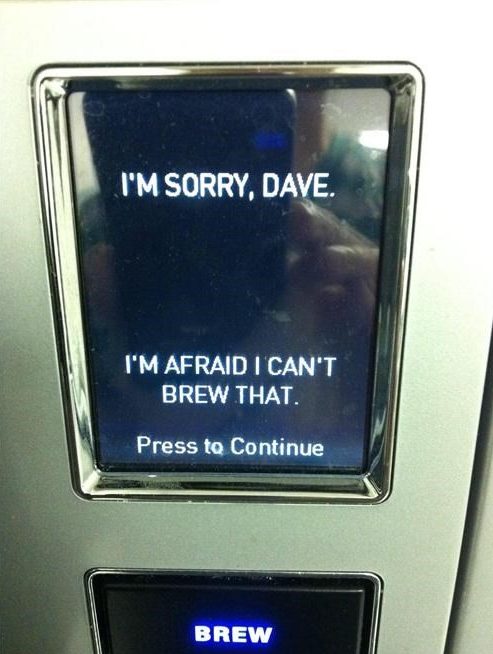 Friday morning. 5:15 AM. I'm up because I need to get to be somewhere early. Anyone who knows me, understands when I say that that 2 cups of freshly ground coffee first thing in the morning is a daily '10' for me (more about 10, 25, 50 & 100 soon).  
And it's now, at 5:15 AM, that my coffee machine decides to follow in the steps of the anti-hero HAL 9000 from Arthur C Clarke's "2001: A Space Odyssey", and refuse to open the (coffee) pod bay doors –  "I'm sorry Peter, I'm afraid I can't do that." (Watch the ground-breaking scene here)
So, like HAL 9000, the coffee machine has been decommissioned and moved on to wherever retired coffee machines and murderous psychopathic computers hang out.
We'll gloss over the next few uncomfortable hours and jump forward – time to shop online for a new coffee machine. Simple right? Ha! Bamboozled by model numbers like Evo ECAM 510.55.M, milk temperatures, PEP, TFT and IWS., water volumes, hopper sizes and Creama systems, this was turning into a surrealistic nightmare.
So I had a non-threatening cup of tea and thought about this.
Why all the gizmos, gadgets, funky functions, antagonising acronyms and mysterious model numbers? What's the actual point?
It turns out that according to the Center for Business and Economic Research, the UK coffee market is worth a staggering £1.5bn pa, with Gross Value Added to the UK economy in excess of £3.7bn pa and growing. An estimated 95 million cups of coffee are consumed in the UK every day! So the stakes are high, the consumers spoilt for choice and the rewards great.
And the coffee machine manufacturers know this so they fight hard for valuable market share. And in the main their over-arching strategy seems to center on innovation. And that's exactly why your business' should too.  More and more it appears true that the only way businesses today are going to survive and thrive is through accelerated innovation. Your business, even if you're an independent professional or small firm, needs to stay on the leading edge…or die. It doesn't matter if you're a builder, a mortgage adviser, a hairdresser or a coffee machine maker.  This applies to us all.
Ask yourself if you've done any of the following in the past six months…
improved or refined your marketing messages;

developed one or more competitive, new services;

expanded your outreach to current clients and customers;

discovered new ways to connect with prospective clients;

developed or improved your Internet/web presence;

partnered with other business owners to multiply your reach.
Remember, in business as in life, there's no such thing as hovering. You can't remain stagnant and hope to compete in today's economy.
Businesses that have adopted Accelerated Innovation as a strategic intent are typically winning new customers, taking market share and positioning themselves for long-term success. And their innovation isn't a one-time flash-in-the-pan. It's simply the only way to do business these days. They're taking consistent, effective action to get to be known as the leaders in their particular fields.
They…
Continually improve their marketing messages – they realise that clients are moving targets. What appealed to them today might be different tomorrow. So, they reassess their messages and communicate what's relevant, right now. They zero-in on the issues, challenges, problems and pain that are most prevalent.
Develop competitive new products and services – it takes some insight, creativity, effort and planning to do this properly. Make sure you put your ideas into action. Don't just settle for existing products and services because you think you have the most profitable ones. Your customer's will be looking for the next big thing that solves their pain, and so will your competitors.
Expand their contact with current clients – it always costs less to sell current clients new services than to find new clients. Successful businesses have established ongoing client contact programs, and continually offer something new. What are you doing to keep your clients happy and loyal?
Find new ways to connect with prospective new clients – they grow their mailing and e-mailing lists, providing free samples of valuable information and sending content-rich communications. They focus on providing value and gaining credibility so when prospects are ready, they're seen as the vendor of choice.
Develop or improve their presence – whether it's online or offline, they realise that they need to constantly evolve their market presence. Word of mouth, relationship building, video testimonials, quality content – they are exploring it all. And they're not complacent…rather, they're restless…always looking for a better way to present their services. If your business' message is stale, it's time for a face lift.
Partner with other business owners – the concept of joint-venture partnering has never been more relevant than now. Smart business owners are not just selling their own services…they're selling each other's services as well…and reaching a much wider audience. Partnering through strategic alliances, host-beneficiary arrangements, co-sponsored workshops, etc., are some of the powerful ways to do this.
But how do you get moving on all this stuff without getting overwhelmed? Consider…
learning how to do one thing at a time really well;

prioritising and focusing on the 'one big thing for the moment';

creating and executing an action plan;

investing in a coach/adviser/mentor;

becoming a fanatic.
If you're waiting around for something to change in this economy, you're going to be very disappointed with your results in the coming year.
And that's worth thinking about…
BTW – new coffee machine ordered and I'll be able to make my coffees using an App on my phone – 'Hey Siri, make me an espresso'!
On the 3rd March in Wokingham I'll be helping a select group of business owners begin their journey into innovation to help them build better businesses. The Academy is a membership programme for owners of small businesses of up to 5 employees. If you'd like to join us for a taster session, click here for more information or please get in touch.